As winter approaches and the roads get slippery, it's time to dust off the turbo and take our training indoors. Before you get stuck into the meat of training itself, make sure you are set up for success by considering the following advice. (This article assumes you already have had a successful bike fit and are happy with your bike position – if not, get a bike fit first! )
1. Replicate your bike fit
If you have a dedicated bike for indoor training, make sure you replicate your bike fit as closely as possible, firstly by applying the same measurements as your main bike (see how to use your bike fit dimensions).
At Foundation, we're real sticklers for details and consistency, so ideally you should use the same contact points across all the bikes you train on. Try and install the same saddle, pedal system, crank length and cockpit. You send hours on your bike so this makes sure you are training in the right movement patterns. If your crank lengths are different across your bikes you are not able to train with consistency. You might even end up training in a bad habit or at the worst an injury. If you have a position that works – stick with it.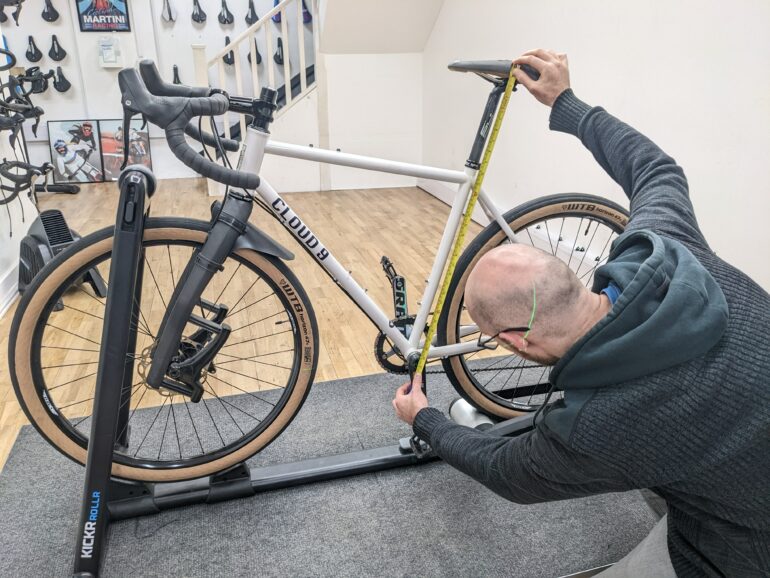 ---
2. Level your bike
Since many indoor trainers will raise the back wheel up from the floor, you may need to raise the front one too, otherwise it will feel like you're constantly cycling downhill. This can put excessive pressure on the hands and front of the saddle, leading to numbness and discomfort. Bear in mind some trainers, like the Wahoo Kickr (direct drive) don't need a front wheel riser. So make sure you know how to set up your equipment.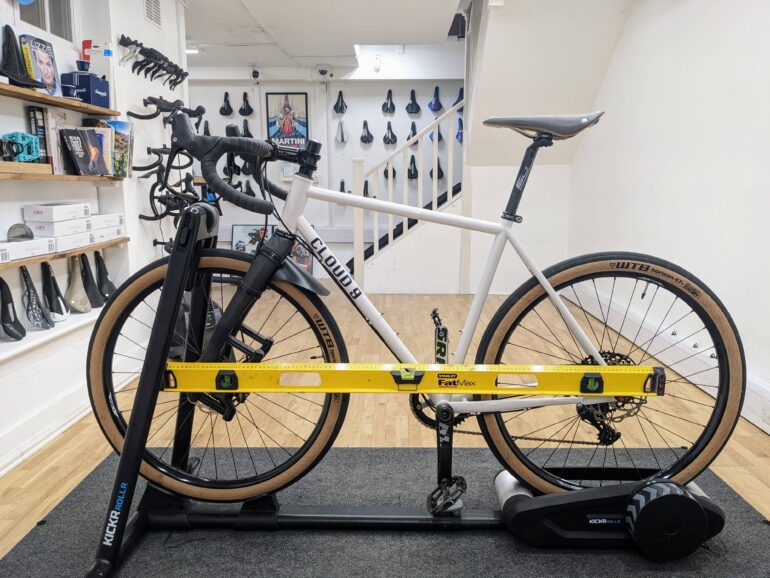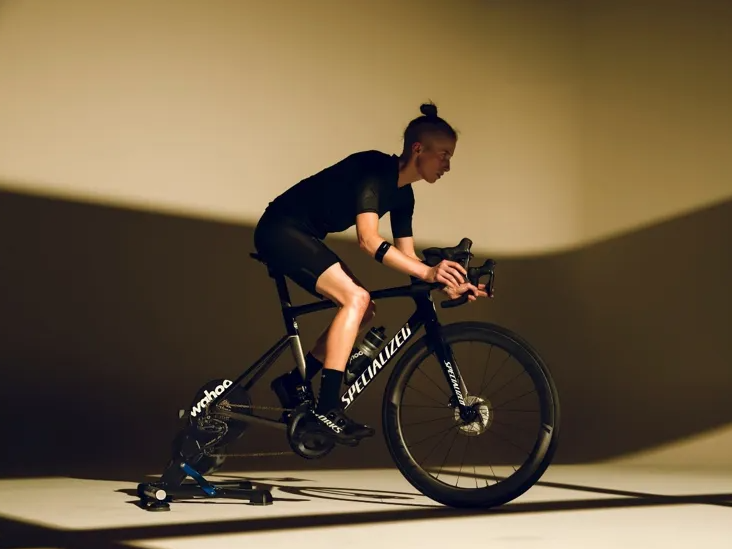 ---
3. Get a fan
"But my central heating is off and my house is colder than an air-conditioned spin studio",
I hear you cry! Did you know, even cycling outdoors on a stationary bike can get pretty warm because of the lack of wind generated by travelling forwards? If you're travelling somewhere hot for a race or event there are specific heat acclimation protocols you can apply in a safe and considered way, but in general, overheating during a training session is not helpful for adaptation.
You will find it harder to perform high-intensity efforts, it will be less enjoyable and it will take longer to recover ahead of your next session.
---
4. Ventilate the room
Yes, all rooms should be ventilated, but it's worth bearing in mind a lot of moisture will evaporate from your breath and skin into the air in the room. If you're going to be training there a couple of times a week it's easy to see that you need to allow the moisture to escape. And that's before the obvious need to have fresh air with plenty of oxygen to fuel your workout. An open window can also help with cooling if your fan isn't powerful enough.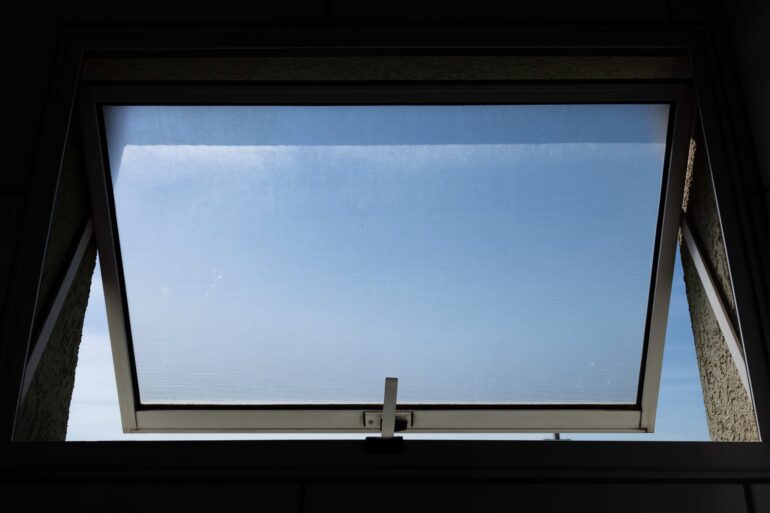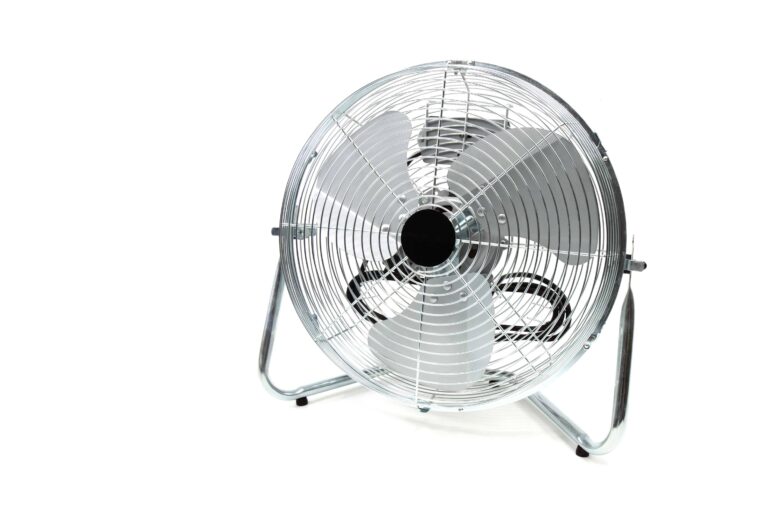 ---
5. Protect your bike
Just as it can be problematic for your home, the excess moisture you sweat can be really bad for your bike if it is allowed to pour all over your bike and not dried off at the end of each workout. It's not uncommon for us to see seized bolts and significant salt rust damage on bikes that have been used extensively for indoor training (urg!), but a towel and perhaps also a sweat guard can prevent this from happening.
---
6. Protect your floor
Sweat again! A special turbo training mat helps protect your floor from sweat damage, as well as protecting wooden floors from bicycle cleats and providing a sound-dampening effect (love your neighbour!). A yoga or exercise mat can make a reasonably good substitute but expect it to get a little mucky and scuffed over time.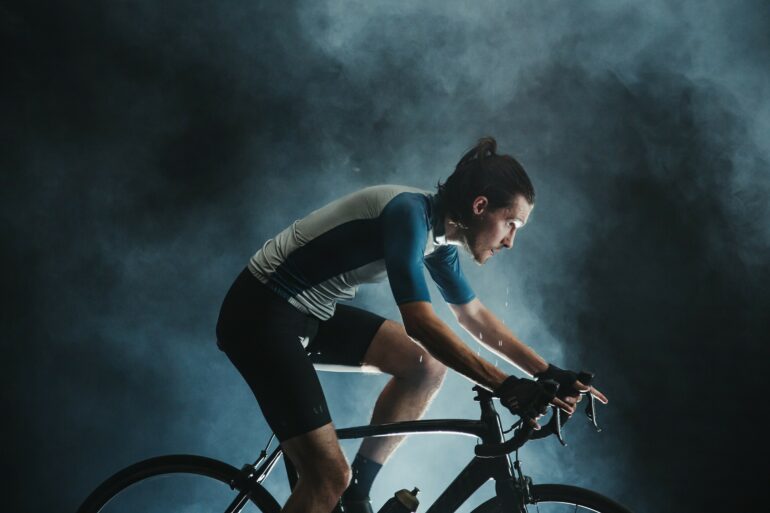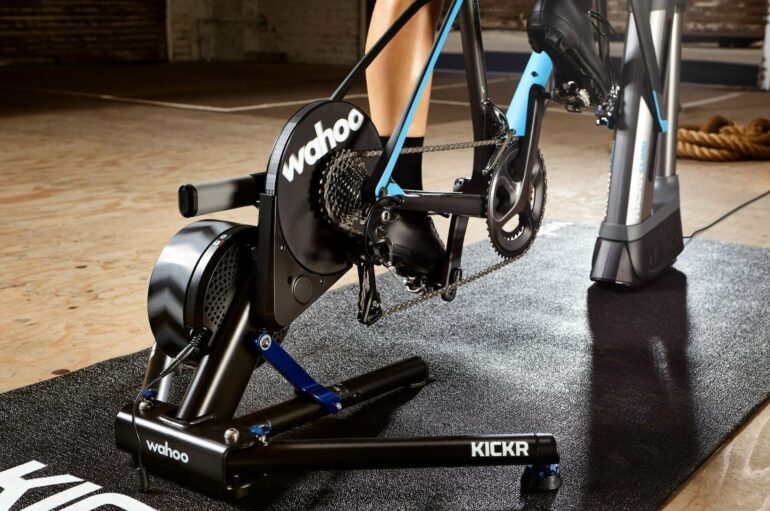 ---
7. Practice your hydration
Put your chosen drink in your regular bottle in the bike bottle cage or fill up the reservoir if you have one – drilling the process of sipping through training will help make this automatic when you're out on the road as well as keeping you hydrated. This is also a great time to experiment with different brands of exercise drinks, both for taste and digestion. Test stuff out now so you know what works for your body when you hit the road.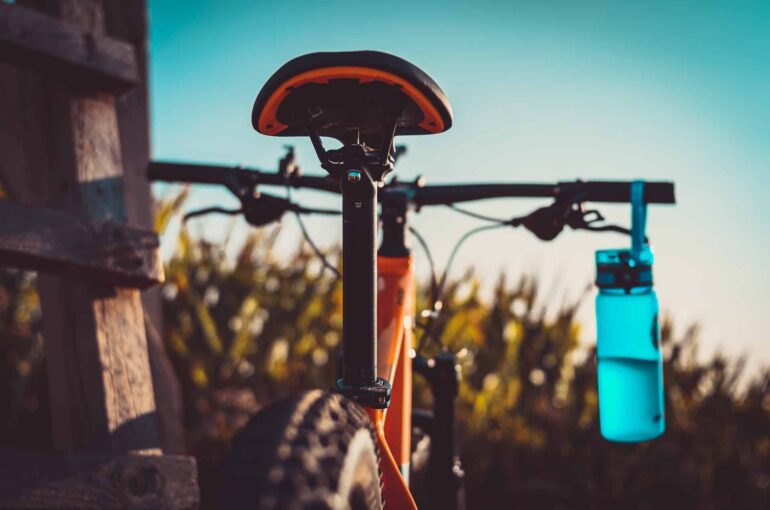 ---
8. Fuel up
If you're training longer than an hour – ensure you have some snacks or fuel to keep your muscles working. Think about where you will put it – it's good to practise the same method you will use riding outdoors, but indoors you also have the luxury of placing it on a piece of furniture within reach.
---
9. Practice great form
Being comfortable on the bike isn't always as simple as 'hands here, bum there, feet there', holding good posture can make the world of difference and help you to keep delivering power to the pedals at the end of a long ride. Grab a mirror to check your shoulders really are relaxed and away from the ears and your elbows have a gentle bend even on the hardest intervals or at the end of a tough workout. Remember this is where your off-bike strength and conditioning work pays off. The stronger you are, the longer you can hold your best posture. A great bike position has to be earned!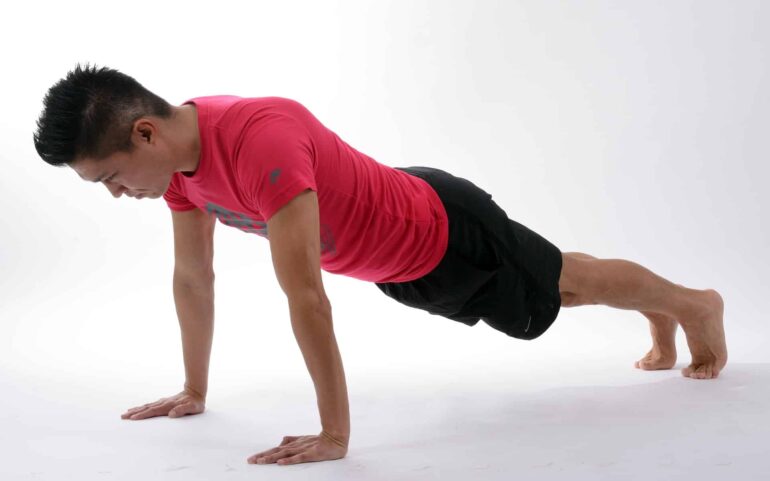 ---
10. Be ready
If you know you have a workout coming up, prepare your equipment beforehand. If it's an early morning workout, set up your bike, bake your snacks and lay out all your gear the evening before. Psychologically, being prepared makes it much more likely that you a) start the workout and b) it gives you more time to concentrate on the workout itself, rather than all the peripheral faff. Before anything else, preparation is the key to success!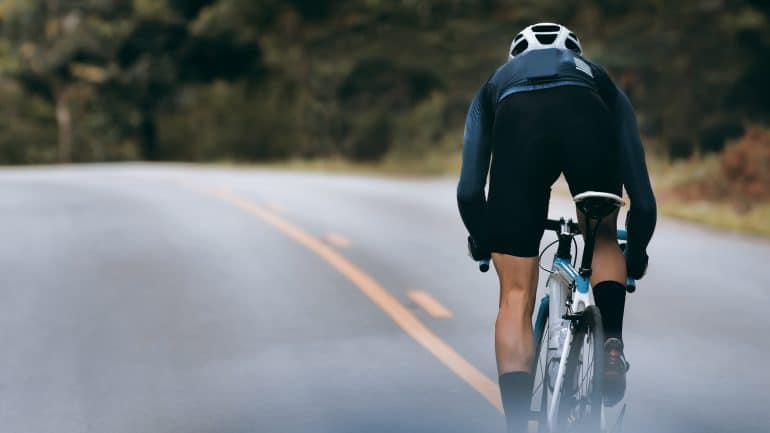 ---
Words by: Wei
If you've made it to the end of this article, thank you! We really appreciate your time and hope this was useful for you. We'd love to know your thoughts and if you have any topics you would like use to write about, please do email us your ideas: info@foundation.fit