In this first article of the series on indoor trainers, we look at some different set-ups for indoor cycling on a budget. If you're just getting into triathlon or cycling or you haven't trained indoors before, this is for you.
Things we especially look for in a set-up are:
Space efficiency and noise (lots of our followers are in London!)
Ability to connect to online training apps like Zwift or the Sufferfest
How to get full-featured metrics which are great for structured training
How it relates to your riding out on the road
What differentiates this from your average turbo trainer product review is that we are looking at how varied options from across the indoor trainer category stack up. Here are our top three picks for training on a budget:
Option 1: An entry level turbo trainer e.g. Tacx Blue Matic
You can get a very basic turbo trainer for around £100 mark but a workhorse from a reputable brand like the Tacx Blue retails about £150 and will be studier, smoother and possibly a little less noisy than the cheapest ones around. Of the three options here, this is still the most noisy – as a general rule with turbo trainers, the more you spend the less noisy it is – and vice versa.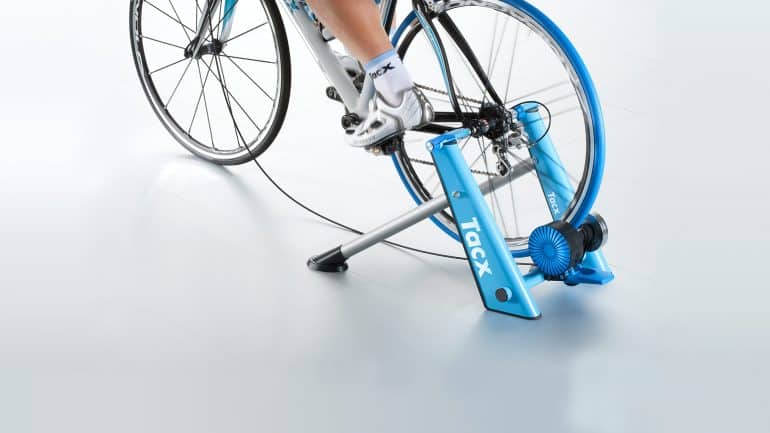 Let's talk about changing tyres
Normally a special turbo tyre is needed which can withstand the constant friction of the flywheel. The most convenient way to manage this (in our opinion) is to keep a spare wheel that always has the turbo tyre on it (some people keep a spare bike for the turbo trainer, which is certainly convenient but not very wallet-friendly or space efficient!). If you don't have space or otherwise resources for this and you're riding hard and/or long, then you'd need to change the rear tyre over when you switch between outdoor riding and turbo training.
Depending on how much volume and intensity you expect to be doing on the trainer and depending on the thickness and condition of your tyres, some riders may be able to just ride on their existing outdoor tyres without switching them over, but this can wear out the tyres quickly making them unsafe on the road and leaving tiny flakes of rubber all over your floor. A turbo tyre is essential for serious riders and recommended wherever possible for aspiring serious riders.
Monitoring your ride stats
This turbo trainer won't give you any data. You would need separate sensors to obtain data read-outs e.g. Wahoo Blue SC (+Tickr for heart rate too), or a multisport watch or bike computer with sensors on the bike.
Thoroughly evaluating the relative merits of different apps and devices for capturing your ride data is another blog (or series!) in its own right, but for now, here are our thoughts in a few paragraphs.
Yes, you could get an old-faithful Cateye bike computer but at the end of the session you'll only know the overall duration and speed (and maybe cadence) averaged over the whole session and you won't be able to see how well (or not) you nailed your intervals or threshold session.
Bluetooth and ANT+ sports watches
Of the sports watches, for value-for-money we'd recommend the Garmin Forerunner 735XT. Now about 3 years old, but still available direct from Garmin as well as many other retailers, you can buy one from as little as £200 for the wrist unit only. It is compatible with Garmin and many third-party Bluetooth sensors (e.g. for speed, cadence, power, heart rate) and is a great training tool for anyone involved in multisport.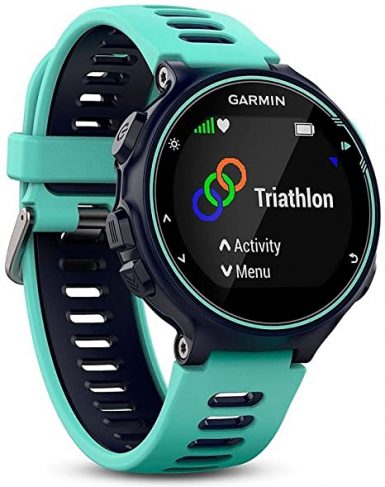 One of the things we like about the Garmin Forerunner multisport series is that they include turn-by-turn navigation around a planned route (some of the newer ones even have map views), so you don't need to worry about taking out (and maintaining battery) in multiple devices if you go for a long ride. They also tend to be small and light compared to similar products. And if you need to ask another triathlon teammate how to use a particular feature, you won't need to look far!
The next-newest model after the 735XT is the Forerunner 935 which retails for about £325 (still not the latest model but new enough to have a ton of features including some new health and fitness measures that the 735XT doesn't have. We'd always recommend adding a seperate HR strap and for an indoor trainer that doesn't have any data readouts, speed and cadence sensors (much cheaper than a power meter and you can still get estimated power for online training apps). The Garmin-branded heart rate monitor and speed and cadence sensors come to £120 (£60 each).
The budget-friendly alternative already in your pocket
The other option instead of a sports watch is to use the Wahoo phone app plus the Wahoo bluetooth sensors. Again, if you want heart rate plus the speed/cadence metrics then you'd need the Wahoo Tickr heart rate monitor plus the Wahoo Blue SC speed and cadence sensor. You could pick up both for £115 and the app is free so this seems astoundingly good value.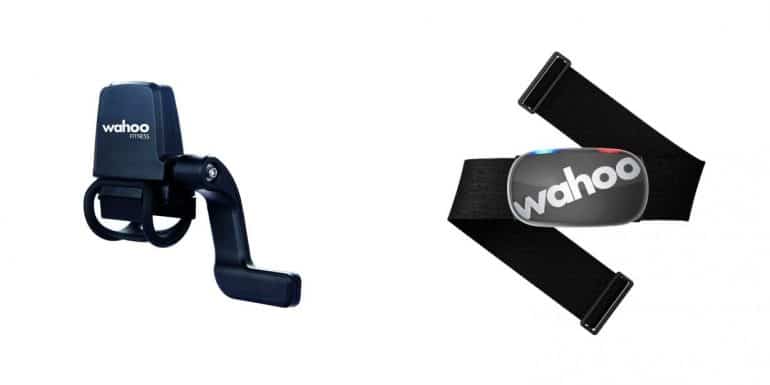 Since Strava discontinued support for heart rate monitors or other sensors connected to your phone while recording a workout in the app, this is now the de facto method of getting metrics other than GPS speed into Strava without a compatible sports watch or cycling computer since you can sync your Wahoo workouts with Strava. However you can't compare the Wahoo phone app to the software on a dedicated multisport smartwatch like the Garmin Forerunner series.
On the bike, you can't follow pre-programmed workouts, on the road you'd have to run a navigation app (assuming you don't know the route already) alongside the Wahoo app which would drain your battery very quickly and having to switch between the Wahoo app and your navigation app could be clumsy. If you want to use it to monitor your run workouts, it's going to be hard to continuously glance at the screen to check you're on pace or to press the lap key depending on how you carry your phone. And obviously you can't use it for swimming (at least, if there is anyone who has a phone marketed as waterproof, we haven't seen them in the pool with it!).
The long and short of recording bike data for multisport athletes
If you're a budding triathlete or duathlete, we'd recommend the Garmin 735XT plus sensors rather than the Wahoo app and sensors since the Wahoo product range isn't really geared towards serious runners and you'd probably want another device to monitor and record your runs anyway. If you're just riding, however, using the Wahoo devices with the app is worth considering, the devices are compatible with the Garmin Forerunner series and similar sports watches so you could still use them even if you got a smartwatch or bike computer at a later date – just think carefully about whether your phone battery life would be up to the job.
Tacx Blue Matic plus Garmin 735XT, heart rate and speed and cadence sensors: £470
Tacx Blue Matic plus Wahoo phone app with heart rate, speed and cadence sensors: £265
Option 2. Hybrid rollers and separate speed and cadence sensors e.g. Feedback Sports Omnium
Phew! Well the good thing is the question of how to monitor and record training metrics above also applies to this set-up.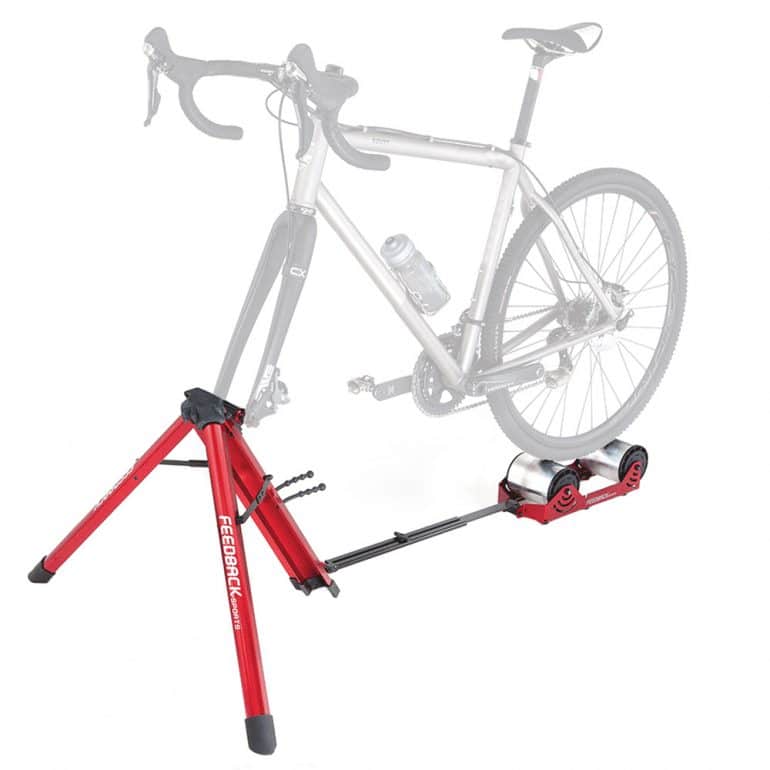 Here's what you need to know about hybrid rollers:
Hybrid rollers are the most compact option (fold into a holdall-size bag)
The back wheel is not fixed in place so it's more comfortable and has a road-like feel. You have to take the front wheel off, but that's not a big deal as you don't need to worry about the chain and cassette.
You can ride them with your existing tyres so no need for a spare wheel or changing tyres (just keep the tyres clean or be prepared to do some sweeping or vacuuming when you're done!)
The beauty of this option is that whatever tools you add to provide data read-outs you can take with you when you go out on the road. For example:

Whether you choose the more conventional triathlon watch or cycling computer plus speed and cadence sensors option or the more minimal Wahoo app plus Wahoo Blue SC, you can just leave the sensors on your bike/wheels (depending on sensor type – some do not require wheel sensors anymore) and get cadence readouts on the road.
You have the option to add power at a later time if you want to train indoors with power – power meters such as crank- and pedal-based devices continue to become more affordable so you don't need a high-end turbo trainer to measure this (and one on your bike can be used out on the road).
Hybrid rollers wouldn't be well suited to track sprinters or strong riders doing very high-intensity sprint workouts, but for the majority of endurance riders it's unlikely you'll miss the drop off in resistance over 1000 Watts.
Hybrid rollers are fairly inexpensive considering all the benefits, the Feedback Sports Omnium hybrid rollers are a quality piece of kit and cost around £350, although there are some cheaper ones on the market.
They are the quietest option of these three.
Omnium hybrid rollers plus Garmin 735XT, heart rate and speed and cadence sensors: £670
Omnium hybrid rollers plus Wahoo phone app with heart rate, speed and cadence sensors: £465
Option 3. An entry level smart trainer e.g. Tacx Satori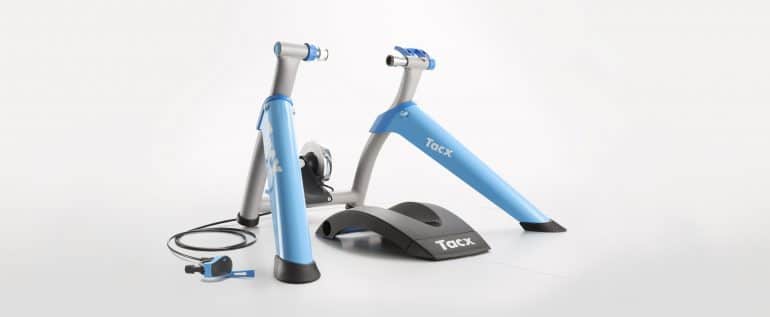 It has a built in power meter although it is not measured from the bike itself so is an estimate of sorts.
As with the Tacx Blue in option 1, you need to use a turbo tyre for anything other than very light use (this means changing the tyre or keeping a specific turbo tyre on a spare wheel for use on turbo).
It has Bluetooth connectivity and is designed to work with online training apps like Zwift and can, for example, increase the resistance as you climb a virtual hill without changing gears (you might want to shift to an easier gear though depending on your training goal!)
This is the second most noisy option here, if you want to listen to amplified music or other audio while training, you'll need speakers on pretty loud to hear music over the sound of the turbo. Conventional turbo trainers also tend to get louder over time with use. Consider what kind of floor you have and whether there are any neighbours (especially downstairs) to take into account.
You will need to connect with an app to get a readout of estimated power, speed or cadence, or it can be connected to your bluetooth sports watch or bike computer, if you have one, or it should be compatible with the Wahoo app, if you wanted to go that way, since it uses Bluetooth 4.0.
Tacx Satori trainers retail at about £260
The main drawback here is that despite providing lots of metrics, you'd still want equipment for capturing/monitoring ride metrics out on the road plus navigating.
Tacx Satori plus Garmin 735XT, heart rate, speed and cadence sensors: £520
Tacx Satori plus Wahoo phone app with heart rate, speed and cadence sensors: £325
As with the above options, if you're a triathlete or duathlete and you don't already have a running watch that meets your needs, then the Garmin Forerunner 735XT plus heart rate strap is our recommended combination because that will take care of this too.
Conclusion
The hybrid rollers plus smartwatch and sensors is a great option if you're very restricted on storage space and noise, or if regularly changing the tyre or switching to a spare back wheel is a major put-off, but the outlay is a bit higher than the more conventional flywheel turbo trainers. For the best budget option, the Tacx Satori gets our vote as the money you spend to get a smart trainer vs a traditional trainer like the Tacx Blue is negligible once you've also bought a speed and cadence sensor. Add in a few-seasons old but mature triathlon watch such as the Forerunner 735XT and you've got a set-up that will also track your running and swimming as well as smartwatch features like all-day heart rate, sleep tracking, phone notifications etc. And the Find My Phone feature will save hours of your life each year looking for your phone (trust us!).
---
Words by: Abby
If you've made it to the end of this article, thank you! We really appreciate your time and hope this was useful for you. We'd love to know your thoughts and if you have any topics you would like use to write about, please do email us your ideas: info@foundation.fit
Header image: Marco Verch.